UNIFOR Local 2025, in solidarity with the Wet'suwet'en people and the Unist'ot'en camp, fully supports recognition of Anuc 'nu'at'en as the highest law of Wet'suwet'en territory, and the rights of the Wet'suwet'en people as upheld in the Delgamuukw decision.
As workers, we have also seen the state defend and prioritize capital and profits over people just as we saw last year so viscerally at the Gidimt'en camp checkpoint. UNIFOR Local 2025 supports the recent peaceful eviction of CGL employees from Wet'suwet'en territory and calls on the British-Columbia and Federal governments to seek and respect the free, prior, and informed consent of the hereditary chiefs. It is not seeking genuine consent if you are unwilling to respect a community saying "no" when asked for permission to enter their territory.
It is with deep admiration that we as working people stand with land defenders across the country who, in fighting for respect of their sovereignty, are fighting the systems that wish to steal our future, and the future of those who come after us, for profit.
We will be encouraging our members to participate in solidarity events and to take time to learn more about the United Nations Declaration on the Rights of Indigenous People (UNDRIP), reconciliation, and what is happening at Unist'ot'en. We are sharing this supporter toolkit with our members as we keep #AllEyesOnWet'suwet'en.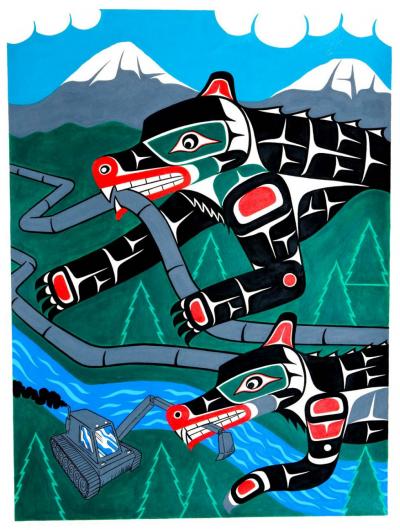 The members of Unifor Local 2025 work at the Public Service Alliance of Canada and at the Union of Safety and Justice Employees.
Image: Gord Hill